Efficient And Smart Thermostats

Smart Thermostats Installation
Atmos is a leading provider of smart thermostat installation services in South Florida. They only recommend the best smart thermostats that are modern, efficient, and tech-rich. These thermostats allow homeowners to control their heating and cooling systems remotely from their smartphones, tablets, or laptops. Meanwhile, they are also equipped with advanced features such as energy-saving modes, automatic scheduling, and temperature sensing.
Atmos is a one stop solution for all services related to air conditioning and, in addition to smart thermostat installation, We offer a wide range of other services including AC installation and repair, AC maintenance, and air duct cleaning. Our service area covers the cities of Boward, Palm Beach, and Miami-Dade, including Fort Lauderdale, Hollywood, Pembroke Pines, Miramar, Weston, Coral Springs, and Miami. To ensure the comfort and satisfaction of our valued customers, our team of experienced technicians is dedicated to providing high-quality and professional services.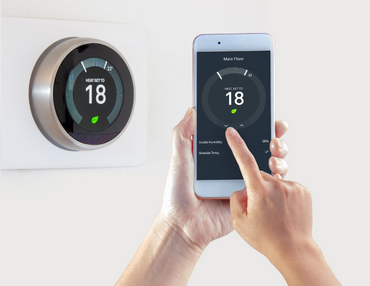 Our Smart Thermostat Installation Services
Atmos offers professional smart thermostat installation services to help you upgrade your home's temperature control system. Our team of experts are trained to handle the installation of various types of smart thermostats, ensuring that your system is up and running smoothly. With our focus on customer satisfaction, we strive to provide a seamless and stress-free installation experience. Here are some top reasons to choose Atmos for your smart thermostat installation service:
Expert technicians with extensive experience in smart thermostat installations.
High-quality products and equipment to ensure the longevity of your system.
Seamless and efficient installation process to minimize disruption to your daily routine.
Customized solutions to meet your specific heating and cooling needs.
Reputed Company
Atmos is known for its reputation and quality services in the smart home industry.
Best Products
Atmos offers top-rated and innovative smart thermostats that cater to different needs and preferences
Licence & Insured
Our technicians are licensed and insured, providing customers with peace of mind and assurance.
Benefits of Smart Thermostat Installation
Atmos is a premium smart thermostat installation service provider that specializes in delivering top-of-the-line smart home solutions. With our expert technicians and cutting-edge technology, you can transform your ordinary home into a smart, energy-efficient space. But, you might be wondering if the investment in a smart thermostat is really worth it. Let us tell you, the benefits of a smart thermostat are numerous. Here are six key reasons why you should consider a smart thermostat installation for your home: